Jolafin - Kathak dancer 
shows, workshops, courses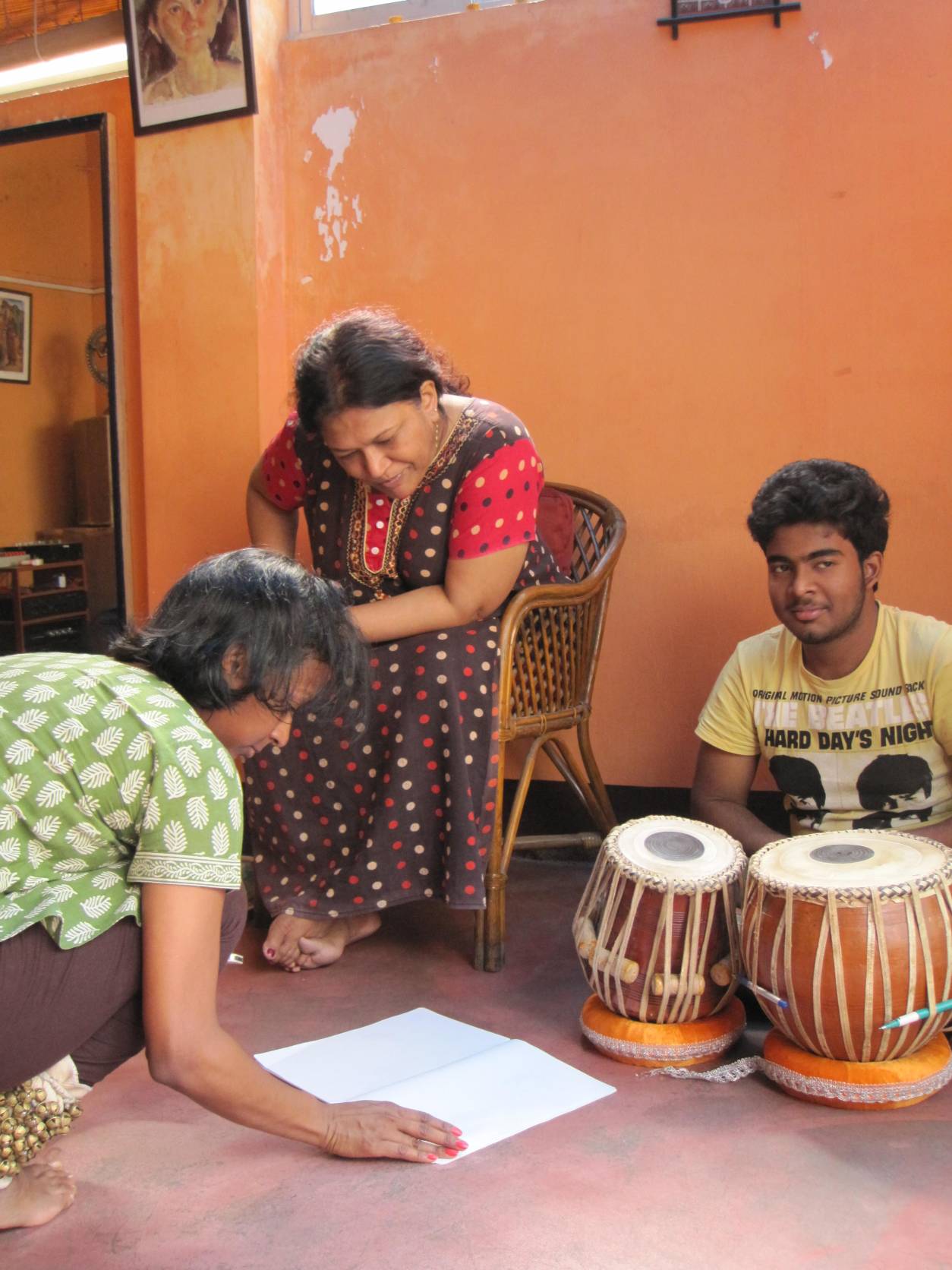 Kolkata, India. Guru Surangama with his son Suramya Dasgupta on tabla and Jolafin on a study travel.
Kathak courses and workshops
Jolafin teaches Kathak to beginners with no experience and to intermediate students with minimum previous experience of 1-2 years of Kathak. 
She also organizes intensive Kathak workshops and master classes for advanced students with experts like her Guru Surangama from Kolkata in regular basis.
She has planned to teach children from age 6 onwards in summer 2018. 
Drop an email for regular updates and more information!
Kathak courses
Kathak Workshop with Surangama
| | |
| --- | --- |
| Beginn: | 25.08.2018 |
| Ende: | 26.08.2018 |
Workshop III: Nritta
Introduction course, Hand/Arm movements (Mudra und Hastak), rhythmic footwork (Tatkar), small compositions
Level: beginner
When: 25./26. August 2018, 10.00 am – 11.30 am
Venue: Musikpalast, Altrheinweg 38, 4057 Basel
Fees: Sfr 48


Workshop IV: Natya
Sufi Kathak, an expressive spiritual dance of the Sufi Mystik.
Choreography
Level: open level
When: 25./26. August 2018, 1.00 pm – 4.00 pm
Venue: Musikpalast, Altrheinweg 38, 4057 Basel
Fees: Sfr 96

more information click here
Flyer A6 englisch.jpg
Zurück zur Übersicht
Typical Kathak session with Jolafin
Jolafin follows mainly the curriculm of Prayag Sangit Samiti, but is preparing intensively to adapt the internationally recognized ISTD syllabus for Kathak.
Her lessons are thoroughly planned, which incorporates
the strengthening of stamina with basic footworks, 
learning the correct body posture and alignment, always with focus of holding line and geometry of body,
learning various rhythmic pattern und create sound with feet, develop clarity of sound
arm and hand movement and hand gestures (Hastaks and mudras)
short technical choreographies following the rhythmic cycle (Taal) and recitation (Parhant) of the syllables (bol)
theory and history session of Kathak dance.  
 Got curious? Have look in a intermediate sessions.